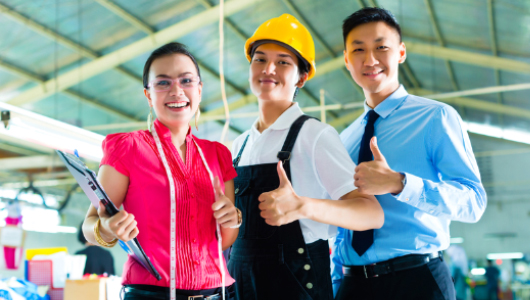 MOON is a family company established in 1995 at home in Vietnam. From the very
beginning we wanted to combine two, as we believe, core values – the family textile
tradition and keeping the closer eye on the developing trends. And because MOON is
a buoyant company with stable roots, we have been doing very well.
Would you like to meet us?
Our company has been producing for Polish customers since the beginning and we
got recognition among wholesale traders. We reached Hungary, Ukraine and Russia.
We have become open for world trends and started collaborations with foreign textile
importers and producers and professional fashion designers.
We own sewing rooms in Vietnam, China and Poland. All of them have been
equipped with a modern machine park, that is upgraded in accordance with the needs
of the market.
What do we offer?
In our extensive offer you will find both contract sewing and the option for the
wholesale purchase of our current collections.
For MOON is a dynamic brand, every season it offers its clients the latest trends, but
also produces collections for special orders – both for wholesale customers and
clothing chains. We specialize in women's clothing and contract sewing for other
companies. We produce our own designs as well as customer's projects.
If you would like to take advantage of our offer, you can choose either from the
season collections or order special manufacturing under the brand you run.
Wholesale
The MOON company is about the offer of the ready made clothes. We create our
collections in the cooperation with experienced designers, according to the upcoming
and already existing on the market fashion trends.
Our clothing is dedicated to women of all ages. We offer expanded casual and
evening collections, always adapted to the latest trends.
We sew models in all available sizes – dresses, blouses, jackets, sweatshirts, skirts
and trousers. Such an extensive range of products gives you wide opportunity to
choose appropriate models and an abundant variety of goods to be sold at your
fashion store.
Contract sewing
We will take a series of actions in order to deliver the ordered, ready product to the
customer's premises right on time. We will take care of every stage of its production.
At MOON we sew on a broad scale. We make templates and patterns according to the
vision or design of the customer and introduce them into production (with a minimum
order of 300 pieces of one design).We provide comprehensive and professional
services with regard to sewing tags, quality control, ironing and packing of the
products.
At the customer's request we also provide transport of the products.